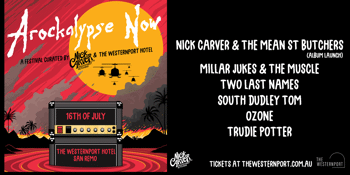 Arockalypse Now Festival
Westernport Hotel - San Remo (San Remo, VIC)
Saturday, 16 July 2022 7:30 pm
The Westernport Hotel, and Nick Carver & the Mean St Butchers are bringing a new festival to the pub stage. Arockalypse Now showcases some of the best local music from Gippsland to Melbourne and beyond, with no less than 6 acts playing across the whole venue from 7:30pm till nice and late! Tix through: thewesternport.com.au
NICK CARVER & THE MEAN ST BUTCHERS
MILLAR JUKES & THE MUSCLE
TWO LAST NAMES
SOUTH DUDLEY TOM
OZONE
TRUDIE POTTER
NICK CARVER & THE MEAN ST BUTCHERS
https://open.spotify.com/artist/2r3XpJYqqgcaYWSl0ar4xa?si=-lEyAStpTbenCXFQf799Yw
Nick Carver & the Mean St Butchers have played The Westernport Stage many times, supporting artists such as The Tea Party, Ash Grunwald & Custard. They're now bringing us their explosive blues tinged rock'n'roll show to celebrate the launch of their sophomore album, ANIMALS. Carving it up with roaring rock, romping Americana roots and a shuddering psychedelic twist, Melbourne-based roots/ rock band Nick Carver & The Mean Street Butchers create a gloriously high-powered sound. Fronted by singer-songwriter Nick Carver, the group bring an authentic energy that pierces every ounce of their music, fuelled by honest insights, soulful observations and a clear, unapologetic passion for creating riveting roots/ rock melodies with a crisp modern edge. Their music conjures images of cowboy boots kicking up dust, carrying a resounding folk-esque energy that forcesro llicking foot-stomping, amplified by heroic guitar solos, robust cowbell thumps and the strong country-road desire to reach a destination in better shape than when you left.
"When Carver and company go big they really go big. This one is shuddering with swampy power."
(Dave Ruby Howe, Triple J)
"Delectably twisted, love how this looms in the darkness and refuses to come out. Sonically dazzling, I love the dark and mysterious world you live in."
(Nkechi Anele, Triple J)
"The Mean St Butchers have a real dirty slide guitar tone. The sort of grit that isn't often heard in a deep narrative song…… I think you're gonna like the stomp these guys have. It's got a bit of force behind it!"
Henry Wagons - Double J
MILLAR JUKES & THE MUSCLE
https://open.spotify.com/artist/1edBoFPWKjcNAlotsKVKsQ?si=QjJFQO3mQ1Gs7dG56VFrmA
Following two sold out shows in 2021, Millar Jukes & The Muscle are ready to a bring huge night of soul & blues to the Westernport. He might have grown up in Scotland and live in Australia, but it's a distinctly soulful, bluesy voice that comes out of Millar Jukes. The Melbourne-based artist has just released his debut album – an infectious collection of groove-laden tracks, designed to make you get up and dance. Acknowledging the Americana stylings, Jukes has supported the likes of Ruby Boots, Stonefield and Sal Kimber. Now he's found a sharper suit that fits, completed by his 7-piece soul band The Muscle who have been crafting a unique blend of soul, indie rock and roots since 2018 - and the result is electrifying!"
TWO LAST NAMES
https://open.spotify.com/artist/54Nw79RJePGMErwLiwzXTs?si=2NSudDsdQ06inDPGQxiKGA
Two Last Names are a coupla loud, upbeat mates birthed from jamming in an abandoned train carriage in the hills of Gippsland on Gunaikurnai country. We have an unusual mix of musical influences which results in a cooked blend of ocker nonsense, emo oversharing and unexpected beats (with a whole lot of snare) that somehow works. Think punky / indie storytelling from a band that physically cannot write a song without getting overexcited and yelly at the end. We're passionate about women, gender diverse people and LGBTQIA+ musos getting on stage in our backyard. Seeya at a show soon pretty please!
"It does that age old trick where it's all feel good until you listen to the lyrics. then that second half hits ya square between the eyes! another solid one from two last names."
DECLAN BYRNE - Triple J
"Fun Aussie punk with a lot of character and energy. Can really hear ya'll having fun and I'm all about it! Keep it up."
Bridget Hustwaite - Triple J
SOUTH DUDLEY TOM
https://www.youtube.com/watch?v=GDtL85OvJ_A
South Dudley Tom is truly a spectacle to behold. Bringing a steam punk attitude to live authentic blues harmonica, thumping stomp box and jumping slide guitar, his music is sure to get you grooving in ways you previously thought impossible.
OZONE
Ozone are four youngsters from gippsland who reckon they can play the f**ken blues. And you know what, they reckoned right. Archie Leggat's guitar work is the perfect compliment to Roy Trumble's intoxicating croon that leaves you legs shaking and your body in a cold sweat. Cutting their teeth across many a local dance floor, they're truly an act to behold.
TRUDIE POTTER
https://open.spotify.com/artist/7fBMMgQNNBYNXUBqNWTqmp?si=MhNDfnpqSA2-0Rq87RPRGg
When she isn't performing with Nick Carver & the Mean St Butchers, Trudie Potter is in her own right, an accomplished singer, songwriter and guitarist. She's been bringing her neo-soul, Jeff Buckely tinged songs to audiences around Melbourne for the last 5 years, breaking hearts with her devastating vocal delivery and songwriting revelations. She'll be kicking off the Arockalypse Now Festival on the front bar stage.