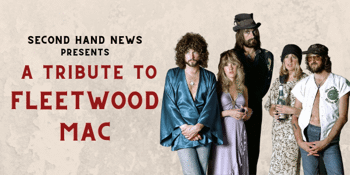 Second Hand News - A Tribute to Fleetwood Mac
Westernport Hotel - San Remo (San Remo, VIC)
Saturday, 30 July 2022 9:00 pm
Second Hand News is a Fleetwood Mac tribute act that formed in 2019 with a mission to bring the Mac's biggest and most loved songs to the stage. From 70s jams to 80s bangers, this tribute presents all the hits spanning Fleetwood Mac's extensive career, with songs from the band's blues beginnings, 1975's self-titled, Rumours, Tusk, Mirage, and Tango In The Night.
All members of Second Hand News have performed together in various tribute shows over the last decade, playing Talking Heads, David Bowie, Kate Bush, Buddy Holly, Big Star, The Replacements, Oasis and more. A previous incarnation of this Fleetwood Mac show sold out The Corner Hotel in 2017 and went on to tour Victoria, playing The Prince Bandroom, Yarraville Live, The Grand Mornington, and Cherry Bar to name a few. With 2021 seeing the reopening of live music venues in Victoria, the group played some killer shows at Geelong's Barwon Club and sold out Sooki Lounge in Belgrave.
Second Hand News comprises Cat Sanzaro, Sean Sully, Adrielle Spence, James Wingard, Freya Long, Pete Azzopardi and John Abougelis. With individual backgrounds ranging from cabaret to folk, country rock, pop, new wave, and punk, the group brings a diverse skill set to this live music experience. Detailed instrumentation, perfect harmonies and a deep appreciation for the band's catalogue, make Second Hand News: A Tribute to Fleetwood Mac one not to miss.