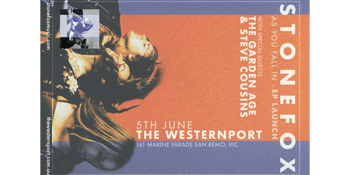 Stonefox - 'As You Fall In' EP LAUNCH
The Garden Age, Steve Cousins
Westernport Hotel - San Remo (San Remo, VIC)
Saturday, 11 December 2021 8:30 pm
12 months after the digital release of their second EP, Stonefox launch 'As You Fall In' at The Westernport Hotel in San Remo.
Stonefox's debut record 'All I Want' showcased an evocative style of delivery and production. Springing fourth from the bands laptop in their backyard shed were intricate guitar melodies and innocent vocals that resonated with listeners around the world.
In 2020 Stonefox teamed up with Canadian record label Seeking Blue and released their brand new EP 'As You Fall In'. The debut performance of the EP was live streamed worldwide with over 30,000 people tuning in.
Having amassed over 3 million streams on their EP, multiple remixes and landing regular plays on Triple J Unearthed and Triple J, Stonefox are itching to get on the stage to perform 'As You Fall In' in front of a live audience for the first time.
Supported by local acts The Garden Age and Steve Cousins
Socials:
https://www.instagram.com/stonefoxmusic/