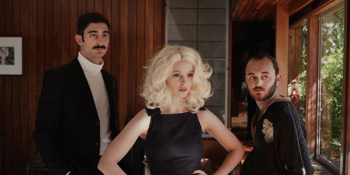 Island City Records and Select Music
San Cisco 'Between You & Me Tour
with special guest Banjo Lucia
Westernport Hotel - San Remo (San Remo, VIC)
Saturday, 11 June 2022 8:00 pm
Set to an upbeat indie-pop groove on the cusp of innocence and heartbreak, this is where San Cisco lives. 'Awkward'. 'Too Much Time Together'. 'About You'. Lovesick calls gone to voicemail and endless pondering of what went wrong.
Between You and Me
is the fourth album by the indie trio from Fremantle released in late 2020. It was an album two years and at least one sadly remembered love affair in the making. Featuring leading singles 'When I Dream', 'Skin', festival anthem 'Reasons' and 'On The Line', it's clear that the Hottest 100-heavy record Between You and Me tells a widescreen story of loss and letting go.
After two years of navigating a COVID touring landscape, San Cisco are finally ready to take the album for one last lap around Australia to wrap up the album cycle, including for the first time in Victoria joined by very special guest Banjo Lucia.